If the last time you ordered with us was in 2000 through today, we most likely do! (For orders older than that, give us a call and we can check!)
You can reorder your project in My Account or give us a call and a product specialist can walk you through a reorder.
How can I place a reorder?
Log into My Account
Select the project that you wish to reorder.
Click the icon labeled "reorder".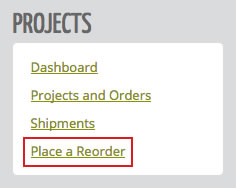 You will be able to edit either the quantity, the production time and/or upload new Art or Content files.
Walk through check out.