Gatefold Brochure
8 panels, printed on sturdy, recycled board
Call 1-800-468-9353 for a custom quote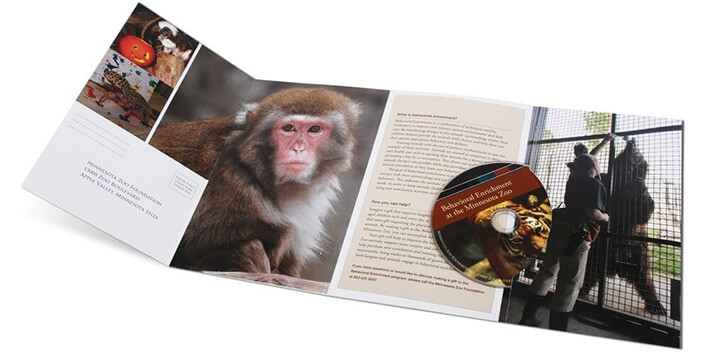 A Gatefold is a packaging option that uses two parallel folds to create six panels – three panels on each side of the paper. The left and right panels are roughly half the width of the center panels and fold inward to meet in the middle without overlapping
We use only non-toxic, vegetable-based, biodegradable inks for rich, vibrant full-color board printing and award-winning on-disc printing.
Our board packaging is made from sturdy 15-point, grade-A, recycled board stock.
Free super-shiny or velvety matte UV coating for the ultimate finish and superior durability.
Our Low Price Promise means you'll never pay too much for premium quality disc replication or duplication.
We guarantee our 5-, 3-, and 1-day production times (we do not guarantee shipping times). If we miss the guaranteed production date, we'll make it right.
All our packages are backed by our

satisfaction guarantee.
All our disc packages are proudly made in the USA.